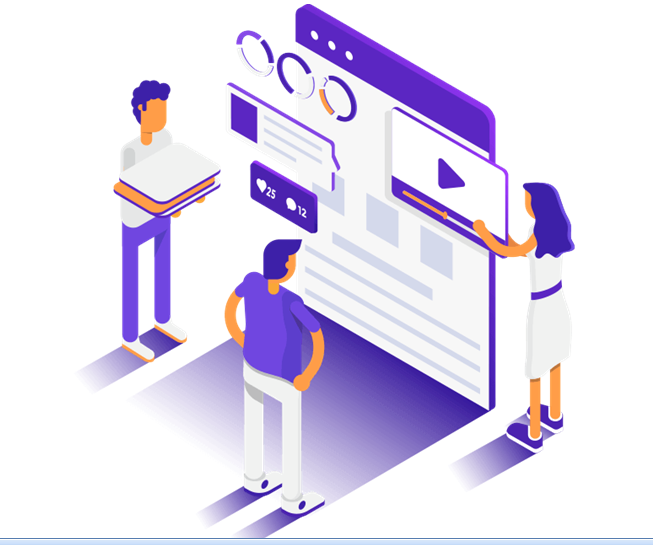 Eomsbd provides the best services of web designing or Web development that deals with the functionality of your website, and makes the designed pages come to life.
What are we
Our digital Agency is a web design and development agency that has evolved to meet the changing needs of marketing in the digital age of web designing. Currently we are working with ten website developers, who are always ready to make you achieve your goal.
What do we use
Our go to software is Laravel. It helps to take the pain out of development by easing common tasks used in almost all web projects, such as authentication, routing, sessions, and caching. It helps us in the development process, a pleasing one for the developer.
How can we help you
web application development
software development
web page application development
ecommerce development
any type of problem solving regarding ecommerce
Customer requirement is our main focus. We as a web developer now must have what it takes to build websites and applications that are innovative and out of the box in the ecommerce web designing era. We made it a career in web development from 2010 till now.
We will help you in web application development which needs tools including: Bootstrap: an automation framework which manages HTML and CSS. jQuery and Ruby on Rails: for JavaScript libraries and frameworks respectively. js: is a JavaScript runtime used as a back-end programming tool.
We will help you in your software development such as conceiving, specifying, designing, programming, documenting, testing, and bug fixing involved in creating and maintaining applications, frameworks.
We do web page application development in which we create application programs that reside on remote servers and we deliver to the user's device over online.
Additionally we will also help you if you have an ecommerce site. Shopping, processing payments, adding products into carts and security we cover these areas.
Why would you contact us
We employ a broad range of web development services in advertising strategies to create website marketing company campaigns tailored to their clients' needs. Our first job is to listen to the demands and requirements of the client where the choice or taste, habit or culture is also needed to be valued to the utmost. Then it's time to consult again with our opinion with the client because we can ensure you with the best advice, we have expert web developers and web designers in this matter.
And finally, we develop what our client need and it is always collaborated with our technological knowledge, so we can ensure hundred percent of your faith in us. It always needs a double check with 2 side knowledge to provide the best deal in responsive web designer, we make a best website and software... All the efforts to accomplish what your business needs in our aim to be satisfied as a web designer and web development agency. After all , why wouldn't we help you and be the best website designer near you !!
(WHAT R YOU TRYING TO SAY)
Our speciality
We use cms ( Content Management System ) which is a computer software widely known web application that is used to database to manage all content, and it can be used when developing a website. (rephrase it) And we are using our own website for cms, which we call oms (Office Management System )
About OMS
This is a content management system which is an application that is used to manage web content by allowing multiple contributors to create, edit and publish. Here we get some contents which are typically stored in a database and displayed in a presentation layer based on a set of templates.
Why do we need this
We need this because in regular life we don't know coding. And here in this web designing software no coding Knowledge Required. So by enabling the non-developers and other users to build websites without coding, this system have helped revolutionize web design. We easily can create and manage content, customize the design of your site, and install extensions to add functionality to your site , all without coding. So it definitely will help our work to get more easy. (rephrase it)
What else we have
All our efforts are to ensure your business needs are satisfied. Customer satisfaction is our satisfaction. We can assure you that EOMSBD (E office management system can be the best software development company in Bangladesh that you ever came across. We take web designing and web development to an extended level in this generation, where ecommerce development is our fundamental need.
We are 24/7 ready to provide you various business software. Here I am giving an example of what else we have.
HR software
Accounting software
Point of sales software
Inventory Management Software etc.
School management software
HR software is a human resources management system or human resources information works as one of a major web design and development system or human capital management which is used as a form of human resources software designing and it combines a number of systems and processes to ensure the easy management of human resources, business processes and data.
By Accounting software, we know it is a type of application software which is also a category of website marketing company that records and processes accounting which helps transactions within functional modules such as accounts payable, accounts receivable, journal, general ledger, payroll, and trial balance. It also works as an accounting information system.
A point-of-sale, or POS, system includes both hardware and software and that allows a business to process customer payments for products and services. And this is a mobile system where users can use this software or can get benefits from anywhere working.
We all know about Inventory management software which helps the existing web software development system for tracking inventory levels, orders, sales and delivering.The main usage in the manufacturing industry to create a work order, bill of materials and other production-related documents and we use them regularly.
We also have a school management software in our small business website design where we have a large collection of computer instructions, specially designed to manage the day-to-day administrative tasks of schools. School management software authentically allows schools to digitally monitor the daily activities along with managing all the resources and information on a single platform and you can enjoy all services together in our super fast responsive website design.
Another software ERP solution is one of the big projects that we are currently working with and serving. Enterprise resource planning (ERP) refers to a type of software that organizations use to manage day-to-day business activities such as accounting, procurement, project management, risk management and compliance, and supply chain operations. As we have already developed some software for some of our clients, which you may not get from others. And we serve our customers as they need so for that we have to go a little extent for their satisfaction. You might face lots of hassle when you choose another company to do the same thing for you. But in our office of web development agency our delivery system and moderators will incorporate you with the highest consumer support.
Our mobile application
We also develop applications for mobile. As one of the biggest software development agencies or ERP solutions is one of the big projects that we are currently working with and clients, which you may not get from others. You might face lots of hassle regarding mobile website design services when you choose another company to do the same thing for you. Mobile applications these days are one of the best ways to make some loyal customers because it creates an engagement with them. We also can create a relationship with the customers easily by it. A mobile app provides a platform where customers can interact with the business as per their convenience. Moreover, with a referral program, you can encourage your clients to refer to your new business and make it viral. As one of the biggest software development agencies or companies in Bangladesh, we have a long product category for you. We will be able to develop any website that you like.
Our Web development agency is highly referred to you for building, creating, and maintaining websites. We also provide us with a wide range of aspects such as web design, web publishing, web programming, and database management. While the terms ``web developer" and "web designer" are often used synonymously we will offer you as your company demands.,m (rephrase it please)